July 18, 2015
2

found this helpful
Best Answer
Birds are super sensitive to the spray. Reading the can is your first hint. It will kill your pet bird is another hint. Please do not do this ever. It is horrible. Also the bees carry it back to the hive and you can guess the rest. Bees are in big trouble and do not need us to add more threats. There are much more sensitive ways to control them. Yellow flowers on feeders are no good, reduce proportions to 1:5 instead of 1:4. Make super strong 1:3 or 1:2 nectar for bees in their own feeder and move it away from your hummer's feeders, a little further each day might be best so the can move along. Call Hummingbird Society in your area for more ideas but no bug spray. Ever.
July 18, 2015
0

found this helpful
This is not a good idea. It is not safe for the hummies. When do they ingest mint and get mint extracts on themselves in in nature? The harm potential is worse then the bees. Do not try.
July 18, 2015
0

found this helpful
I know this is an old post but I have to point out that the proportions for the nectar you have is incorrect. It is 1:4 and one way to try to deter the bees is by making it 1:5. The birds will tolerate it but bees are not as happy and hopefully will go elsewhere. It is one of the few ways I got some bees to leave and I had/have a big bee problem the instant I make the nectar to sweet by mistake, 1:3 would get the hive to move in! (not really but seem like) see picture. Please, do not grease up your feeders with anything it is a really poor idea and will not bother the bees as much as the birds. All advice is appreciated but should be checked out for accuracy before bad things happen, like the story mentioned here. Thank You.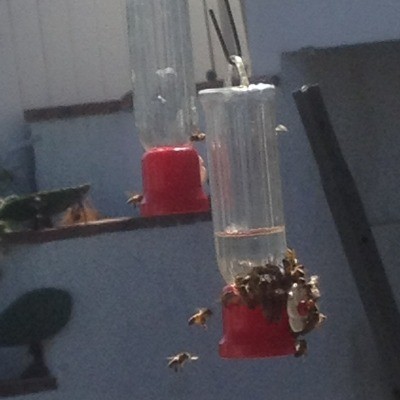 Showing 3