It is my opinion that the whole sheet thing went in the wrong direction from the beginning. While the sheet industry opted for elastic, which only holds the sheet in place for about five minutes, ironing board covers started out using drawstrings. Ironing board covers need to be stable or the ironing does not take place and elastic does not cut it. With sheets I guess the standard was much lower since people were using flat sheets and even the small improvement allowing the avoidance of "hospital corners" was greatly appreciated. Drawstrings would have been a much larger jump in performance for bed sheets. It has been long coming that the obvious use of drawstrings over elastic should have taken place long ago as people all over the internet are posting questions like "How can I get my sheets to stay on?"
The only drawstring sheets available are Comfy Snug drawstring sheets.
Drawstring sheets work really great on hospital beds since the drawstring can be tightened until there is no movement at all. The fit is unmatched since the drawstring can be tightened until it seems vacuum packed on the mattress. The bed can be adjusted up and down an unlimited amount of times with no movement. It is great for an immobile person who may not be able to straighten the sheet on their own. Also getting in and out of the bed is worry free since the sheet will not move.
Drawstring sheets never have this problem. The drawstring does not allow the sheet to come up or come off at all. They are tightened to any point desired for an exact fit to pretty much any mattress. The best thing is that they stay really nice and smooth for a feeling like no other sheet. It's as though the bed was just made and it continues like that until they are removed. They work great!
I have done a ton of remedies for the weak elastic. Now I have drawstring sheets and they work great. No elastic to mess with. They go on really easy also since the loose drawstring is not going to fight you. Once they are tight that's it. No hiking up or popping off. They're also are much more comfortable than any sheets I have ever owned since they are flat and smooth all the time like when the bed is just made. It's great. They also self adjust to any mattress naturally since the drawstring can be tightened until the mattress is gripped.
December 30, 2012
0

found this helpful
"Comfy-Snug" drawstring fitted sheets stay put better than any other sheet with no need for suspenders or clips. They are tight and smooth all the time and self adjust to the mattress thickness. There is nothing more comfortable than nice smooth sheets. It's like the first time getting in bed with new sheets. You just slide right in. Drawstring sheets give you that just made feeling night after night. Also the drawstring is tightened at the side of the mattress so there is no problem figuring out where the side is. http://www.drawstringsheet.com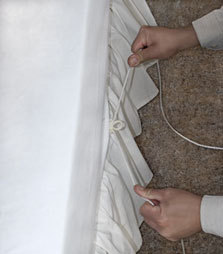 Showing 5