Best Answer
Pre-natal Vitamins!
Switching out toys and bones so she doesn't get bored with what she has is always a good idea. I've notices an increase in destruction for my dogs when they have a decrease in exercise! So walks and dog park could help.
And keep anything you don't want chewed on (shoes, etc) up and away from the dog. We close our closet and bedroom door, put the remote control for the tv up high and anything else the dogs could get out of reach. It's habit now!
Adopting from a breeder can be tricky to make sure they are a good breeder. It seems like you have already been to the breeders. Is the pets area kept clean? Are the pets caged or are they able to get exercise? Is she breeding multiple dogs or just the one?
You are never really "rescuing" from a breeder. A good breeder will have a vet check on the dogs and puppies before they go to a new home. You should be able to get vet records. They should already have their first and maybe even second shots. The puppy should also come with a warranty (if a genetic death happens, you will get first pick of another liter for example). A purebred should also have Papers!
It seems to me that the place is not kept clean, which is why the dog smells.
Buying from a breeder isn't bad, as long as they are taking good care of their dogs. Many shelters have purebred dogs, check out petfinder.com! If the puppy is in poor health, the worst thing you could do is buy from them. If people keep buying, they keep breeding!
If you do get the puppy, first place you should go (with a shelter dog or from a breeder) is the vet for a full checkup!
Scrapbooks are always nice. You can use paper bags for the book and add whatever you want for decorations, or just write nice things or add quotes about her. You can add ribbon to attach hidden photos as well. I'm sure you can find some How To guides on the internet!
I've heard kitty litter works well for oil. Not sure if it's the same for gas but worth looking into!
July 18, 2011
1

found this helpful
Best Answer
Skunk Odor Neutralizer (You may have heard on BON-CC-41, same product, new name!) from BioWorld works the best! The Peroxide method will only work to an extent and not good for pets who have been sprayed around the face. Tomato Juice will only mask the odors (your nose just picks up the tomato but others will still notice the skunk). Many other commercial skunk treatments are alcohol based and can dry out your dogs skin,
Skunk Odor Neutralizer is natural and plant based. Safe to use on the dogs face (be careful around the eyes but a washcloth on the face and in the ears works great). It won't dry out your pets skin. Use dawn dish soap with the odor neutralizer for a degreaser to remove the skunk oils. Both should work great together! If the dog gets wet, the odor may return but just spray the odor neutralizer on your dog and that should help!
She would have to refinance her loans to get him off as a co-signer. If she is not approved, I would strongly recommend getting a life insurance policy on her. That way if something were to happen, the loan would be covered and your husband would not be stuck with the loan. My brother is going throw the same issue right now. My mom can't get off as a co-signer so we is getting a life insurance policy to cover my mom in the case something bad happens.
1 Part Hydrogen Peroxide to 2 parts water. Let it sit for at least an hour before rinsing!
I've never actually tried this method, I just recently found it online! But if you are looking for a homemade recipe, I suggest trying this one first!
I have maple cabinets and black countertops and I painted my kitchen yellow! (not to dark and not to pastel.). Go to the store and get 3 different color paint samples and chose from there! My other kitchen color (floor mat, plates) is red!
Best Answer
That sounds awesome! I wouldn't plan to much more because at that age, girls just like to gossip about boys and school, so you need to leave room for that!
I would suggest a classic movie, like "Now and Than". I think I watched that movie for the first time in Jr High and it is still a favorite!
Craigslist.com has a "trade" section. You can also sell clothes bulked together on ebay. If you are willing to give it away for free, then freecycle.org is a good bet!
November 30, 2010
0

found this helpful
I would recommend The Pet Beverage! You just add a little to your pets food or water everyday and after a couple of week, their bad breath and body odor is gone. I have been giving it to my dogs for a couple of years and it really dogs help. They are bigger than yours so the product will probably last longer for you! This product is also natural!
Good Luck!
December 16, 2009
0

found this helpful
I agree with the other post...pasta!
I created a baked ziti which is basically an easy lasagna! You cook rigatoni noodles or whatever noddles you want. Then I get at least 1 1/2 pounds of ground beef. Cook it then drain the oil. Add prego sauce (at least 1 full jar, maybe 2).
Then when that is all done, I mix Ricotta cheese and Morzoralla cheese together and basically mix it all together the best you can (noodles, sauce and cheese in a casserole dish). Then bake it in the oven until the cheese is melted (about 25-30 mins at 400).
Then just serve it with a green salad and New York Texas Cheese toast from the store (or any garlic bread. That is my favorite!)
Always make more than you think you will need! It doesn't hurt to have leftovers but it sucks when you run out of food, which always seems to happen to me! Good luck!
December 16, 2009
0

found this helpful
Try washing them with BON-CC-41!
http://www.biow odor-neutralizer
I add it to my laundry and use it around the house quite a bit!
He for sure has Shepard in him! My dog is simular to yours except she is all blonde. There is a dog that looks just like her at the local dog park that had a DNA test done on him. He was 3/4 shepard 1/4 POODLE! That was very surprising to everyone. I told my family and they just laughed. But you never know!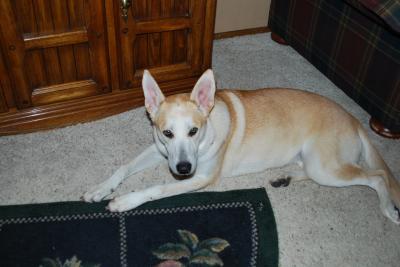 Last year I took my dogs to our local dog park, only to have a skunk spray one of them. I had no choice but to put all my dogs in the car and drive home.
The trick to getting rid of that horrible smell was BON-CC-41. I ended up buying a fogger from them, because skunks like my dogs and this has happened many times. The fog goes everywhere in the car. It is like smoke, it goes into all the crevices. It worked awesome!
I also use it around my house. If it can get rid of skunk odor, it can get rid of anything!
Here is the link to the product: http://www.adbi /pet/skunked.htm
My dog also has anal gland problems. She doesn't "squeeze" them like she should so we have to get them squeezed. You can do this yourself but it is gross (that's just what I heard, I won't touch them! ha) Your vet can do this as well as most grooming salons. Just ask! I know PetSmart does it for sure! They can also show you how to do it.
There is a surgery that can correct it also but I don't have the money for that.
She looks like a Sheppard mix to me! I have a dog with her ears. There is another one at the dog park who had a DNA test done, it was 3/4 Sheppard 1/4 poodle! Weird but you never know!
My dog loves jumping. She jumps sooo high at the back door when she wants in. It's like springs on her back legs!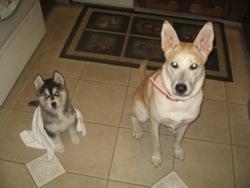 That is awesome!
For my wedding, I had a small bride/groom cake and then on half of the tables, I had cupcake trees as centerpieces! They were a huge hit! I hit 2 birds with one stone. Dessert and centerpieces! And it could also work as the wedding favor (I also had a candy buffet!)
I got my trees from Michaels using coupons for half off!
December 14, 2009
0

found this helpful
Best Answer
Borrow what you can! I bought my dress for $250 off the rack, it was originally $2500! So shop around.
bravobrides.com had some good fines on the site, like brides reselling items!
I had a candy buffet for my favors. I bought all my candy on sale after valentines day. I bought my candy holders from Michael's using coupons I got. If you sign up for their newsletter online, they will send you and 50% off coupon and other coupons!
Contact local high schools and colleges. My friend played in the high school orchestra and they used to do weddings for a donation! I have also heard of people who used colleges to do their flower arrengaments!
Ask friends to take pictures. You always want a few that way you have a better chance of getting good photos! Even professionals have more than one person taking the pictures!
Good luck! My advice is to enjoy the day because it will go by fast then you will even think!
Married September 12, 2009