December 15, 2011
0

found this helpful
Okay I do not get how this can keep insects from coming indoors. Can anyone explain why they would not come in thru the little holes between the caps.
September 20, 2011
0

found this helpful
I make yogurt with my goats milk and to set it up I have to add unflavored gelatin to it. Because you are adding more fluid and possible acid from the flavoring then you will need to add gelatin to it. I have even used unsweetened flavored gelatin to add flavor.
April 13, 2011
0

found this helpful
Have her try on the shorts and see if there is a possiblity of some exposure, by trying them on ahead of time both of you will know weither or not to wear underwear. Underwear are not an essential under garment that needs to be worn, it is more a society expectation. You should always have personal protection (underware) on if you are trying on clothes from department stores for sanitary reasons. At 50 yrs of age I like not wearing underware when it is hot out but I make sure that I am properly covered up. Enjoy your summer.
February 22, 2011
0

found this helpful
If might be wise to invest in a muzzle so that you can safely handle your dog and to teach it that the ear thing isn't so bad. Besides feeding plain yogurt try using Vagisil cream for female yeast infections, you can buy it over the counter at all drug/grocery stores. Put small amount (pea size) in the ear and massage the ear to move the cream down into the canal. Make sure that you are always talking to your dog in a low firm voice and give him lots of praise and a few treats after wards. Make the treats something special that you only feed at ear time. I use bite size boiled cow heart.
February 15, 2011
0

found this helpful
My favorite cake cookie receipe is one box of confetti cake mix, 1/4 c. veg oil, 1 egg. Mix egg and oil then add to the cake mix and blend well, this will be very doughy. I roll about one tablespoon of dough in my hands into a ball and put on a sprayed cookie sheet and bake at 350 deg for about 8-10 min. Makes about 36 cookies. I buy cake mixes when they are on sale and the next time my children tell me that they need to bring treats to school tomorrow I can whip these up and the kids love the party cookies. For more adult cookies try using spiced cake mix and frost with brown sugar or dark chocolate frosting. You can make them fat free also by using applesauce in place of the oil, same amount.
February 1, 2011
0

found this helpful
I have antique and old buttons, what a great way to display them but I would sew them on to not get glue on them that way if I needed them, they could be snipped off and a new one sewn on in its place.
January 25, 2011
0

found this helpful
Top Comment
I started making denim rugs because the charity I volunteer at gets donated clothing and a lot of the jeans saw better days and since i hate to see waste I decided to try making rugs. I don't make a continuous strip but rather join my strips by cutting a small slice into the end of both strips and key hole join them. I also decided i wanted color so I added colored coordinated fabric strips by crochet chain stitch in the pillar posts of my denim stitches. Same as adding a chain stitch to a crochet or knitted for decorative trim. You can use up some really ugly prints because you are after the color not the print. I look for discount fabrics because it is easy to use up 5 yards of the colored material. My current rug is about 5 feet across and weights about 25#. It will be 7 feet across when I am done. Each of my children and grandchildren will get one as they get married. Another way to wash these heavy monsters is to take it to the car wash and lay it over the side of your pickup and then I lay it out on a tarp to dry in the sun. Here is a picture of my rug in its infancy, about 24" wide.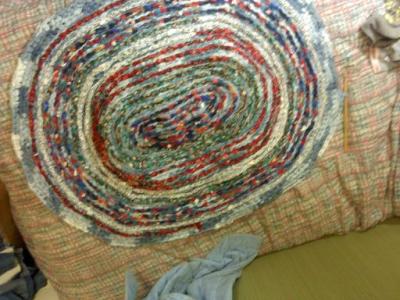 January 7, 2011
0

found this helpful
I had problems with the chickens pecking at the cardboard so what I did was go to my local carpet store and picked up an old carpet that was being thrown away. Nailed it to the walls over the cardboard or foam board. Bottom side out, carpet side next to the wall. Come spring when I am cleaning the coop all I had to do was spray the walls down with a hose to wash all the chicken dust off to freshen up the coop. I used this method in my goat barn also and it made a big difference in temperature.
December 30, 2010
0

found this helpful
Black berries are indeed hard to kill. Some areas in Washington state and Oregon have gone to pasturing goats in these areas. Goats naturally will eat the berry bushes first over grass. By keeping the leaves stripped off the plant and eating the new growth they eventually starve the plant to death. This has happened on my own property when I moved my goats into a pasture with wild roses, russian thistle, mint, snap weed, and cat tails. 3 years later I have a pasture that is primarily grass and clover, the stream is no longer chocked with cat tails and best of all, happy goats.