Growing Magnolia Trees
Our 50 foot magnolia is blooming, huge beautiful fragrant white flowers. Sweet smells of spring my favorite season.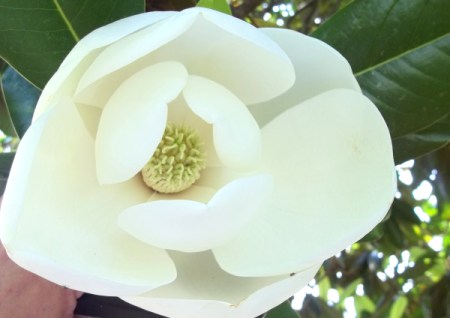 Read More...
My brother planted this magnolia this weekend. It opened up and has beautiful blooms. The smell is breathtaking. I saw three bees in the flower just loving it.
Read More...
The Groundhog says six more weeks of harsh Winter weather. I don't put any stock in this old folklore. One cloudy day wont determine the next 6 weeks weather.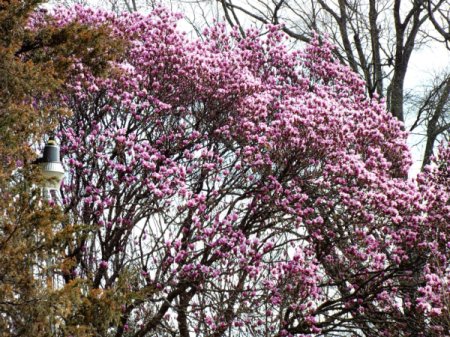 Read More...
I recently took my potted magnolia tree out of our garage, now that the cold weather has subsided. It was happily flowering away in the garage, so hopefully it keeps it up outside. :)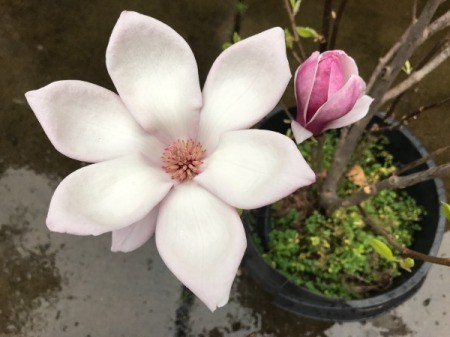 Read More...
I have a magnolia tree that I've been struggling with for years. The problem is no or very few blooms. I've tried a number of things. Still no use.
Any ideas?
Thanks.
Hardiness Zone: 9a
By shirl123 from Houston, TX
Answers
July 23, 2010
0

found this helpful
A Magnolia tree planted from seed can take 15 to 20 yrs. to bloom. If you plant a tree, it can take 3 or more yrs. to bloom. Here are some tips that might encourage it to bloom faster.
Answer

this Question

...
I am new at growing magnolia trees. I harvested seeds from my son's southern magnolia last year and planted them, I have around 100 seedlings. My question is about when to fertilize my seedling, and if i should leave them in a cold frame or bring them in for the winter. They were planted in small pots to start, then transplanted in to larger pots. I have some that are over a year old, some 9 months, some 6 months old.
Pots range from 1 gallon pot to 4.5 . I also have 3 that came up first and are not anything like a magnolia tree. I have read that some seeds will produce freaks, well i have three. They are very different. My daughter calls them Magnolia Palm's. They are very different from the other seedlings, as seen in the picture I sent. The large one is the freak.
Hardiness Zone: 7a
PWILLOW3 from Midwest City, OK
Answers
By Korak (Guest Post)
November 7, 2008
0

found this helpful
I doubt those are magnolia mutants- they wouldn't be that distinct... unless you have exposed them to radiation! Most likely that other plant is some kind of elephant ear tropical plant. My own magnolia seedlings looked nothing like that.
Answer

this Question

...
I have a Little Gem Magnolia that is about 3 years old. It produces flowers on the lower half, but the top half has dead branches. Can I cut the dead back and what is a good time?
By pzbyrd
Answer

this Question

...
My magnolia tree is about 3 years old, and has a few flowers on the bottom half. The top has several dead branches. Can I cut back the dead ones? What time of the year would be best?
By Pat B.
Answer

this Question

...
Related Content