If your Christmas cactus blooms on the 4th of July, consider yourself lucky. Many people who grow them would settle for any blooms at all. If you're willing to follow a few simple rules, you can coax this shy cactus into blooming for you year after year-just in time for the holidays.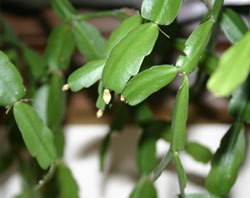 Read More...
January 13, 2012
0

found this helpful
I have two cacti and they are medium sized. They were blooming when I got them and had lots of buds. After the initial blooms faded I expected all the other buds to open, but they never did. They just dried up and fell off. The plant has continued to make more buds, but the same thing happens; they dry up and fall off. My plants get southern exposure and I water every two weeks. What can I do?
By Tara P
Answers
January 20, 2012
0

found this helpful
First thing, check the moisture content in the soil-too wet or too dry can cause bud drop in Christmas cactus. Usually this plant wants to have the soil dry out before watering again. When you do water it, move it to the sink or bathtub, water it throughly to moisten all of the soil, and let it drain for about an hour before taking back to its regular spot.
Now, about that regular spot-plenty of warm sunlight? Christmas cactus love the sunlight through a window all day.
And for some reason the plant seems to do best if pot-bound. At least mine always do.
Have a look at this link to see if you're providing the right environment for your plant:
November 29, 2016
0

found this helpful
Ignore all those contradictory pieces of advice. Christmas / Easter cacti don't care, as long as they have lots of wind during summer and fall. Just like your legs have to move for the calves to help pump the blood, those plants need to flex.
Don't worry about storms. They handle them without a problem. Hang them under the eaves or on gallows or trellis in the wind. Bring them in before it freezes and you will have healthy plants with lots of flowers.
Answer

this Question

...
January 23, 2014
0

found this helpful
After many years my Christmas cactus has decided to bloom. This is great, but it is only blooming one flower at a time. One blooms and then it dies. Then another blooms, then it dies, and so on. What's the trick to get them to bloom all at the same time?
By Adrienne
Answer

this Question

...
December 13, 2014
0

found this helpful
Someone said feed it coffee to make it bloom. What kind of coffee?
By Marsha from Denton, TX
Answers
August 24, 2017
0

found this helpful
Personally, I wouldn't do this. One thing that IS safe for them is Epsom Salt (tablespoon/1 gallon of water). You will often see plants that are red and this is for one or two reasons: 1) Magnesium deficiency, or 2)Sunburn.
These plants with red phylloclades (the leaves, sometimes just called "clades") are very stressed; sometimes so stressed that they bloom as a natural survival mechanism.
December 25, 2017
0

found this helpful
I have Christmas cactus from 1968. I can not get them to bloom. I have many others from recent years that do just fine. These stems are much skinnier then the Christmas cactus now. Any suggestions?
Answer

this Question

...