September 24, 2011
2

found this helpful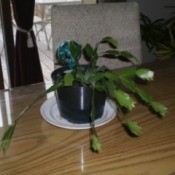 I started my plant from just a small clipping of a Christmas cactus about 1 1/2 year ago and it never bloomed. Now it's getting big and I am wondering if I should put it in a bigger pot and what can I do for it to bloom? The clipping I took it from was a big Christmas cactus from a friend of mine and it bloomed I think twice a year if I'm not mistaken.
By Madeleine from Gatineau, Qc.
Answers
September 25, 2011
0

found this helpful
I've heard that if you put it in a closet or someplace dark for a couple of weeks, the plant would have the "cycle of the seasons" and this is suppose to "force the plant to bloom! I've never had a Christmas Cactus, but read it on a plant/gardening website!
September 27, 2011
0

found this helpful
Deniaka is right. You should put it in the dark and barely water it. I would say it might take longer than 2 weeks though. Then when you bring it out to the light, water it good and put it in some really good light. You should have blooms, maybe not at Christmas, but blooms.
September 29, 2011
0

found this helpful
My Christmas cactus blooms every year. I just put Jobe fertilizer sticks in around the 1st of Nov. I keep the soil moist. Feed it every couple of week with another 1 or 2 sticks. place it in bright defused sunlight area. There's blooms already starting by Thanksgiving. By Christmas it just blooming like crazy and will continue to bloom through January. :)
September 29, 2011
0

found this helpful
This cactus also likes to be slightly root-bound before it will bloom, so don't pot it up into a bigger pot until the roots are literally waving at you from the bottom of the pot.
March 26, 2012
0

found this helpful
These are all very helpful articles/answers to the problems of growing Christmas cactus. I bought 2 small ones at Christmas from Home Depot. A white one & a fuschia one. They had buds; but a few days later they all fell off!
Well, I was very disappointed & I had just given them Cactus plant food, (the liquid kind) with some water! They haven't done anything but sit there plain looking. Unfortunately, I've been over watering them (I just read to let them get dry & just give a little water)!
I just put them in the closet in a paper bag & covered it with a small piece of cardboard-loosely (they'll get air). I marked 8 weeks from today on the calendar to take them out (on May14th) & water with plant food.
I had previously put a plant stick in about a week ago, so I didn't do that before resting them. Hopefully I'll have blooms around Mothers Day or so & remember to only moisten them & (not drown them) again.
Wish me luck. I think these particular ones are supposed to bloom two times a year. I hope so. But whether they bloom or not; do I have to put them away to rest again 6-8 weeks before Nov. 1st for blooms again? Thanks for helping in advance.
December 1, 2015
1

found this helpful
I leave my cactus outside in the shade all spring and summer. When it starts getting cold at night around 40-45 degrees it will shock the plant and start the blooms after a couple weeks I bring the plants inside and in about a week all the blooms are open. I have done this for the past 15 years and did the same to other people's cactus plants and it worked well for them also. Good luck. They are beautiful plants and I am sure this will work for you.
December 9, 2016
0

found this helpful
i did try the closet and still no blooms! Help would be appreciated.
December 13, 2016
0

found this helpful
I inherited a rather larger Christmas cactus, recently. I've kept it outside in an alcove, which is where it was originally kept. Light is indirect and north facing. Since its so large I'd like to keep it outside. So I was wondering if they can survive well in temperatures that dip down to 48 degrees F?
Read More Answers
January 13, 2012
0

found this helpful
I have two cacti and they are medium sized. They were blooming when I got them and had lots of buds. After the initial blooms faded I expected all the other buds to open, but they never did. They just dried up and fell off. The plant has continued to make more buds, but the same thing happens; they dry up and fall off. My plants get southern exposure and I water every two weeks. What can I do?
By Tara P
Answers
January 20, 2012
0

found this helpful
First thing, check the moisture content in the soil-too wet or too dry can cause bud drop in Christmas cactus. Usually this plant wants to have the soil dry out before watering again. When you do water it, move it to the sink or bathtub, water it throughly to moisten all of the soil, and let it drain for about an hour before taking back to its regular spot.
Now, about that regular spot-plenty of warm sunlight? Christmas cactus love the sunlight through a window all day.
And for some reason the plant seems to do best if pot-bound. At least mine always do.
Have a look at this link to see if you're providing the right environment for your plant:
November 29, 2016
0

found this helpful
Ignore all those contradictory pieces of advice. Christmas / Easter cacti don't care, as long as they have lots of wind during summer and fall. Just like your legs have to move for the calves to help pump the blood, those plants need to flex. Don't worry about storms. They handle them without a problem. Hang them under the eaves or on gallows or trellis in the wind. Bring them in before it freezes and you will have healthy plants with lots of flowers.
Answer

this Question

...
January 23, 2014
0

found this helpful
After many years my Christmas cactus has decided to bloom. This is great, but it is only blooming one flower at a time. One blooms and then it dies. Then another blooms, then it dies, and so on. What's the trick to get them to bloom all at the same time?
By Adrienne
Answer

this Question

...