Cleaning With Baking Soda and Vinegar
I always use the old baking soda I take out of the fridge or freezer and put it down the disposal. I add vinegar to make it bubble up and get to every part inside.
This keeps it smelling clean and fresh.
Read More...
How do I clean a drain with baking soda and vinegar?
Answers
September 23, 2018
0

found this helpful
Pour 1 cup of each in the drain. Follow with a cup of boiling water. Leave a few hours. Flush with hot water
September 23, 2018
0

found this helpful
I use this method all the time. I use 1/2 cup baking soda to 2 cups of vinegar. Soda in drain, then vinegar. I leave it sit about 1/2 hour, then run hot water through it for a few seconds. If that doesn't work, I use the plunger for a few squeezes, then use a table spoon of salt in the drain, then above vinegar and baking soda, hot water, plunger.
Unless the clog is the worst ever this always works. Only once after bacon fat got poured down the drain did it not work and the sink needed snaked. Never did that again! PS. We do this every few weeks proactively and knock on wood. The kitchen and bath (sink and tub) and stationary tub drains are always clear!
September 23, 2018
0

found this helpful
This should read 1/2 half a cup! Not 12 cups. Omg. I need a new tablet. I am so sorry!!
September 24, 2018
0

found this helpful
I fixed it. It was showing a weird character instead of /
Read More Answers
Will baking soda mixed with vinegar scratch a stainless steel sink, if used for cleaning?
By Marion
Answers
December 13, 2011
0

found this helpful
I doubt it, I've used a huge lot of Ajax (with bleach) to clean mine and never had a problem. Test a small corner of the sink with the baking soda and vinegar to see, but I don't see it causing a problem.
December 13, 2011
0

found this helpful
I would use a non scratch pad that you can buy at any grocery store along with your mixture of baking soda and vinegar. I use the non scratch pads all the time for cleaning item that I don't want sratched.
December 16, 2011
0

found this helpful
Mix your baking soda with water. Mixing it with vinegar neutralizes it; it is just a waste.
The point of a stainless steel sink is that is tough; you don`t have to worry about scratching them with normal household products.
Answer

this Question

...
Last month, Connie from Paintsville, KY, posted a tip about cleaning a toilet with baking soda and red wine vinegar. Several TF readers asked for more specifics (how much of each product do you use?), but I never saw Connie's answer. Does anyone know?
Thanks very much for your help.
By Caseye from Plano, TX
Answers
May 22, 2010
0

found this helpful
I would just put in the baking soda, and then add the vinegar carefully...because it will fizz like crazy when it hits the baking soda, and you don't want a smelly, fizzy mess on your floor. :-)
Answer

this Question

...
When you have baked on or cooked on grime you are fighting with on your pots and pans and bakeware, try this:
Read More...
August 17, 2017
0

found this helpful
A natural solution for clearing a drain is using using vinegar, baking soda, and boiling water. While effective on moderate drain clogs, you must make sure all of the baking soda is flushed from your drain or it can create an even worse clog when it dries and becomes hard.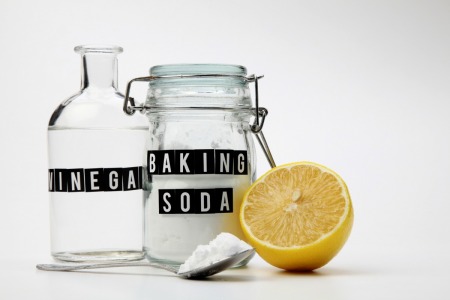 January 6, 2017
0

found this helpful
These inexpensive household items may take care of the problem. This is a guide about using baking soda and vinegar on carpet. Old carpet stains can be difficult to remove.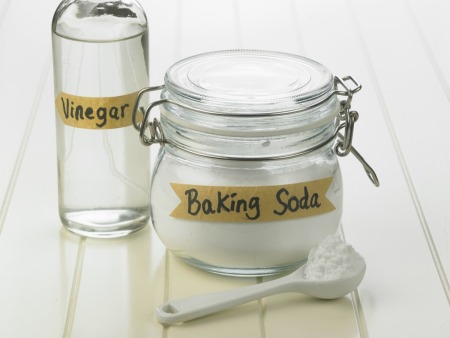 Can you use vinegar or baking soda to clean stainless steel appliances and granite counter tops?
Answers
By jennifer. (Guest Post)
August 23, 2008
0

found this helpful
I used to clean houses. for greasy granite use 409 or mean green first use a lot of water to clean residue. dry off. then mix a 1/4 cup vinegar and water to fill spray bottle. spray countertops wipe clean with lint free paper towel, like the blue kind you buy for automobiles.
Stainless steel trick clean steel with vinegar mixture above wipe clean with blue paper towels, then spray liquid gold on steel, wipe off only towards the grain on the steel, wipe off fridges like this start from top to bottom long even handed stroke. Sometimes it takes some practice with the liquid gold to get a even stroke down the appliances. Not recommended for the top of stove this is dangerous with liquid gold but you can use vinegar and water.
Answer

this Question

...
January 9, 2017
0

found this helpful
This is a guide about cleaning your tub with vinegar and baking soda. Instead of using expensive and sometimes harsh chemicals try this method of cleaning your bathtub.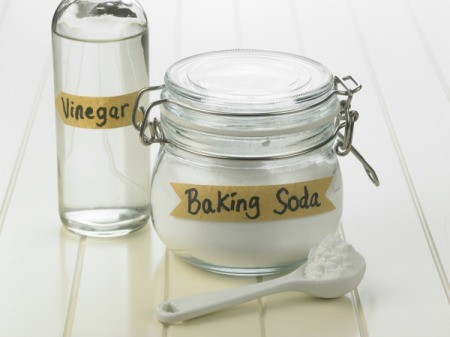 Related Content