Remedy for Dog's Itchy Skin
I want to mix baking soda with water to spray on my dogs paws. I have read that this will help to relieve itch. How much water and how much baking soda do I use?
Answers
September 21, 2015
1

found this helpful
Best Answer
I am afraid I don't know the answer to your question, but just wanted to tell you that there are many reasons for itchy paws. Some will not be affected by baking soda and water. You will probably need your Vet to determine the cause to be sure you have the right treatment.
Answer

this Question

...
My Cocker Spaniel baby has been struggling with allergies and itchy skin for several years and it has been an uphill battle. Here are some of the things that have been helpful to her.
Read More...
March 5, 2015
0

found this helpful
My dog Chelsea is 9 months old. She is a chocolate Lab. She started itching about a month ago and I really wish I knew why. She bites her stomach around her belly button and now it's all pink and broken open and nasty looking. She also bites around her privates and it looks gross there too. I don't feed her anything unusual so I don't think it's that.
I found one flea on her, but I'm pretty sure she is not infested. I bathe her with oatmeal flea shampoo and use the stuff you put on their neck. And if it was fleas, she would have been itching earlier. This started like a month ago. I'm just confused. I guess another vet visit is coming! Someone help haha.
By Savannah
Answers
April 8, 2016
0

found this helpful
Best Answer
When you see one flea it means there are many more that you don't see, but rest assured, they are there. If a dog has a flea allergy, it doesn't take many to drive them crazy with itching. Think of just one mosquito bite on you! We have used Frontline spot on flea treatment monthly with great results.
Answer

this Question

...
January 24, 2014
2

found this helpful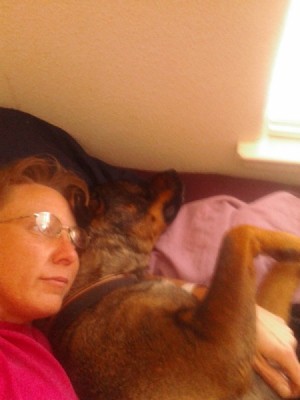 I recently read that 1/3c baby oil, 1/3c Listerine and 1/3c warm water is an amazing treatment, but what exactly does the Listerine do?
By Sara
Answers
September 5, 2015
1

found this helpful
Best Answer
I read about the Listerine/Baby Oil/Water solution more than a year ago for the treatment of mites and itchy skin and it worked like a charm on both of my pups, especially the one who always seemed to be scratching constantly. They actually like it because it's gentle and soothing.
BTW, mineral oil is the same as baby oil w/o the scent. If you dog's fur isn't growing back where he once chewed, buy "Nu Stock." I read hundreds of positive reviews on Amazon and it performs miracles. All the fur grew back, thick and shiny.
Answer

this Question

...
August 24, 2013
2

found this helpful
I have an almost 2 year old Neo Mastiff. Lately he has been scratching and nibbling at his skin around his butt, his back legs, and hips. He has scratched so much in one spot it is raw and red and the fur is very thin.
I have been giving him, antihistamines as I had thought it may be caused by the pollen in the air, but have had no luck helping him. I live on a dairy farm and have been giving him milk which he absolutely loves, but am thinking he may be allergic to this as I know other dogs are. Could someone please suggest a home remedy as I am unable to take my poor boy to the vet at the moment.
By T J
Answers
August 25, 2013
0

found this helpful
Best Answer
It sounds as if it might be a yeast infection of the skin or a food allergy. Change the dog food to a brand with no wheat and no by products, and don't give him those awful store treats that come in a bag, but give him lots of chicken for treats...bless his heart..here is some info on yeast infections in dogs:
Answer

this Question

...
In August, my dog started itching like crazy. Her sister was itching, too, but not as badly. She scratched a bald spot on herself. I bathed both of them, could not find any fleas, and then the itching subsided somewhat.
I took her and her sister to the vet. Several tests were run, they all came out negative, no mites, no fleas, no indication that her intestines had the wrong bacterial flora, and no pancreatitis.
Has anyone had this happen? The vet put her on a steroid and fish oil. I'm confused by this, I just don't get it.
By Carol Rodriguez from SouthBend, IN
Answers
September 20, 2011
0

found this helpful
Best Answer
Hi! The fish oil is great for their coats. My poor doberman, Sauer was born with red mange. He lost a ton of hair and itched constantly! During his mange treatments we began supplementing him with children's vitamins and fish oil. His coat started looking better immediately.
The reason we used children's daily vitamins is because he was only 10 weeks old, and at that time weighed about 20 lbs. The children's vitamins contain vitamin e which is also great for their skin.
I didn't want to give him to much vitamin e which is why we didn't use the regular capsules and went with a children's vitamin. As well as using the omega fish oil capsules.
Other things you could try would be oatmeal baths and maybe even using baking soda in the bath. Dogs are a lot like us, the things we use to treat our ailments are often used to treat them too. Just think, what would you do for for your dry itchy skin? It may help them too. Good Luck!
My mother in law gave us this information, she raised 3 dachshunds that had skin problems.
Answer

this Question

...
My friend recently got her first dog, Suzy, a rescue dog. Suzy has had to wear a cone most of the time that my friend has had her because she will bite and lick herself raw if she doesn't have the cone on.
She is on two types of flea medication, uses hypo-allergenic shampoo and is on a restricted diet. She has also been taken into the vet, where they gave her a cortisone shot.
Anybody have any ideas of what is causes her to do this? My friend is at her wits end and doesn't know what else to do.
By StellaBell from Manchester, WA
Answers
August 30, 2011
0

found this helpful
Best Answer
I've had a similar situation with our Rosie and discovered she was actually allergic to the corn and some of the grains in her dogfood.
She's now on Lamb and Rice for $49.99 a bag for 35 pounds compared to feeding her Pedigree $22.00 for 40 pounds. We have 3 dogs and we had to start feeding it to all of them because the other two thought Rosie was getting something so much better.
For our budget that is very expensive but on the other hand we're not taking her to the Vet and her skin is better. I then noticed every time she came back inside from being out in the yard she was still chewing on herself and started to pay close attention to her every move and actually figured it out.
Rosie has a reaction to Pine Needles and only during the warmer months. During the winter when everything is basically dead in the backyard she's fine.
Per our Vet, she gets 2 Benadryl in the morning and 2 at night. Also when she comes back inside I can actually see hugh red blotches and tiny bite marks and sprinkle Gold Bond Extra Strength Medicated Body Powder".
It's Triple Action Relief, * cooling, * absorbing and * itch relieving.
It greatly helps and soothes all the redness,
I spray our yard but even so as long as we have Pine Needles it's a problem we will always deal with. The border of our entire backyard is nothing but Pine Needles. I rake them up twice a year and my two other dogs have no issues with it.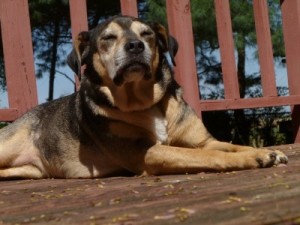 Answer

this Question

...
My baby girl is my 11 year old Toy Poodle. I have had her since birth. Approximately 5-6 years ago, she began suffering from severe itching and an awful odor that followed her scratching herself. No vet can give me a diagnosis or a lasting remedy. Medications are very temporary. I cannot watch her suffer any longer. Please help my baby girl. Our sincere thanks.
By michele c & baby girl from Yulee, FL
Answers
June 2, 2011
0

found this helpful
Best Answer
Call Nzymes 877 876 6500. No, I don't sell it. I get dogs in as foster, as helper (not hoarder) as volunteer for those that would not have a chance otherwise. Nzymes are a favorite of mine. My house will never be without Nzymes. Most of all for your same problem. Unbelievable cures that you will pass on. Claims are true once you read their site. A must. Other help. Change diet. No corn, wheat or soy. Not in biscuits even. Include raw in diet like raw peas, green beans and even a few fruits. Cook a pot of sweet potatoes and ground turkey or organic short grain brown rice, organic lentils, ground turkey. coconut oil, fresh good fish oil, raw flax seed oil is a good addition. Fresh farm eggs once in a while also good.
Get away from the poison additives in commercial foods. Never buy from grocery aisle pet food. If you need a little kibble, EVO, California naturals or a specialty from groom shop, small pet store. NO vaccines. Bet your babies skin problems showed up right after vaccine. Poison mercury, formaldehyde, rotting monkey parts, anti freeze, yeast pumped into a little body causes harm. Read documented ingredients on any anti vaccine site. vaclib.org is a good one. A homeopathic thuja will help with some of the vaccine poisoning. No steroids. Problem comes back worse after immune system is destroyed by steroids. Contact me if you need. I would love to hear that things are going well.
Answer

this Question

...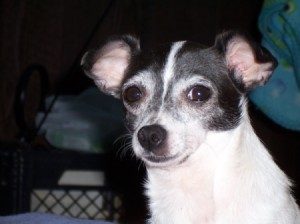 I am hoping to find a home remedy for my dog's itching. My dog is scratching herself raw and I'm unable to take her to the vet at this time. I was hoping for a home remedy that would help. Thank you.
By Dru from Newburgh, IN
Answers
May 24, 2011
0

found this helpful
Best Answer
I have a brussels griffon and she has had the same problem. Here are few things that have helped. BTW - we found out that she was allergic to potatoes as well.
First of all this is the season for high allergies on dogs.
-checked her food and made sure it contains no potatoes (i give my dog Blue Buffalo Wilderness Canned Dog Food)
-Wash twice a week with Earthbath Oatmeal & Aloe Totally Natural Pet Shampoo
-added to her food EFA-Z Plus 16 oz Bottle (you can find a small bottle for about 10.00 on amazon ( this wil give her more vitamins and minerals for their coat. my dog's friend (mixed beagle) had the same problem and her vet recommended)
All of these things have eased her from her itching. She use to chew her knees until they would start bleeding and her little paws. Now that we started doing the above, all is well and didn't have to spend a lot $$$$. Yeah sure we bought some stuff but she is happy and I'm not pumping her with medications or using harmfel products.. You will see a difference within a week. Good luck and I hope your doggy feels better.
May 26, 2011
0

found this helpful
Best Answer
You can call the vet and get a pill for the itching, it is caused by allergy to flea bites, the pill cost around 15.00, I think and it lasts for a whole month, don't get the expensive pills and liquids that cost over 30.00. The vet has the other "pill" but it is not as expensive and I figure that is why they don't tell a lot of people about it, cause they want to sell the more expensive product. This is what we use on our furbaby. If we didn't he would chew all his fur off himself, also if you have a problem getting your pet to take the pill. Just crush it up and add a dropper full of water to it and dissolve as much as you can. Then, get the mixture back up in the dropper and put it in your pets mouth, if you need to you can add more water, a dropper full at a time.
Answer

this Question

...
Related Content