Growing Aloe
Aloe plants make for very thoughtful, pretty and frugal gifts. I received one a couple years ago and I have been regrowing new ones from it's shoots to give to people.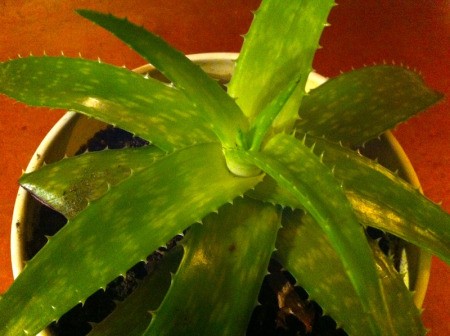 Read More...
April 8, 2013
3

found this helpful
Buy an Aloe Vera plant from the store or get one from a friend. Plant it in your garden. It will multiply and grow many baby plants.
When you need a gift, just take an coffee can or plastic milk bottle cut in half and fill with soil.
I have grown aloe vera for many years now. It likes lots of sunshine and likes to get dry completely before being watered again. Also, it likes light, sandy soil, not heavily fertilized, rich soil.
Read More...
May 2, 2008
0

found this helpful
Click to read more ideas from older posts on ThriftyFun.
Read More...
Here is that same aloe plant after the January freeze we had in Southern California. It is recovering.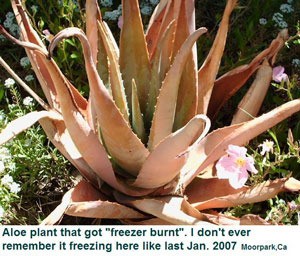 Read More...
I have two small aloe plants that I left outside overnight when temperatures reached into the 20s. Now they seem so limp, and their coloring has changed.
My grandmother gave them to me and they flourished this summer, with me doing very little to them. So I am wondering how to help them bounce back from a possible freeze or at the very least a shock. Advice? Thank you in advance.
By APRIL from SC
Answers
January 10, 2010
0

found this helpful
My aloe plant has been outside in the ground for 10 years now. I live in Southern California but at an elevation >1000 feet, there are a couple <20 nights/year. My plants just grow back from the center. The root structure is not compromised.
I think if you fear another frosty night, the rule is to spray them with water and the ice formed around the plant insulates them. Don't give up the ghost. These succulents endure freezing nights in their natural desert state and they flourish the rest of the year.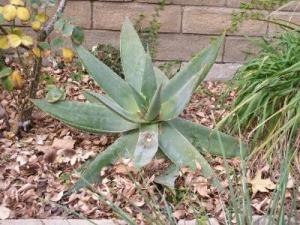 Read More Answers
I have an aloe plant that is really big and has a yellow stripe on the leaves. What type of aloe plant is that?

Thanks,
Harry from Silver Springs, FL
Answers
February 4, 2007
0

found this helpful
Do a google search. Aloe with yellow stripe. It brings up a lot of different types of Aloe.
By (Guest Post)
February 5, 2007
0

found this helpful
Sounds like an agave, not an aloe.
Answer

this Question

...
Aloes are succulent plants belonging to the lily family, indigenous to East and South Africa. They have thick, fibrous roots and numerous, fleshy narrow leaves with toothy edges that protrude out from all sides of the root.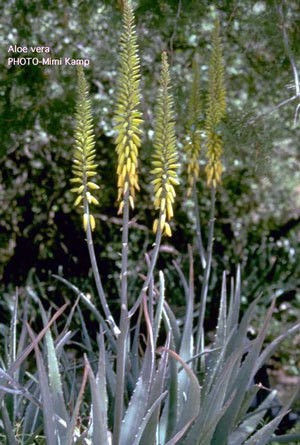 Read More...
May 2, 2008
0

found this helpful
I want to grow and process aloe vera by planting aloe vera plants. For this purpose, kindly guide me accordingly.

Naveed
Answers
May 5, 2008
0

found this helpful
(submitted via email)
Thanks all of your for a quick response. My Basic intention is to grow aloe plant in a professional way and process the gel mechanically.
For this I need a proper guide line for some body so i can start in coming spring season.
regards
Naveed
Read More Answers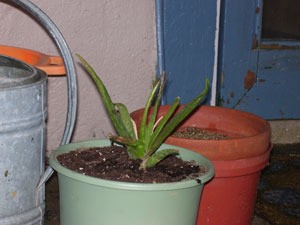 What is the best way to grow aloe plants?

I have one plant and I'm afraid I've over-watered it since it is a semi-desert plant. It just kept on getting browner and browner. One of the leaves has fallen off, so I immediately took it outside and put it into a bigger pot with rocks in the bottom, then sand mixed with fertile dirt, then some of that Vermiculite stuff on top. I transplanted it into that new pot and am about to put a plate or tray underneath it and keep it in the house for now.
How long do you think I should let it go without water? It was dying, but when I cut open the paper planter-cup that it came in the dirt seemed bone-dry. What shall I do? To water, or not to water?
What about taking it outside? Right now it is still getting down into the 60s at night. Is it safe outside or should I keep it in a windowsill?
Hardiness Zone: 6a
Thanks
Answers
By JANE (Guest Post)
June 13, 2007
0

found this helpful
By all means take it outside. It needs the sunshine. But be gradual with it. Don't put the poor thing in the full sun to start with. And let the dirt dry out before watering again. 60 degrees at night is fine. When you get the first frost is when you should bring it in. Good luck!! It seems to have a caring owner!!!
June 13, 2007
0

found this helpful
I grow Aloe plants all the time and have no problems. I use regular potting soil, they do not need sand and all that other stuff. Mine grow big and multiply greatly, in fact I transplant small ones and sell them at yardsales. Water when the ground feels dry to your finger.
Do not let ground get bone dry. As for temperature, I do not place mine outdoors as we have a large sunroom, but I think you could as long as they are not in the hot sun all day. We keep our sunroom at 50º at night in winter. My plants all do well at this temperature.
June 13, 2007
0

found this helpful
Well I have an aloe that has survived my inattention for 5 yrs now. I let it go sometimes 3 months with no watering. Then I think about the poor ting n water deeply. I have had to transplant it 4 times and need to do it again. It has never been outside but sits in a west window with muted sun in the summer and full sun in the winter. In 25 yrs this is the only plant I haven't killed.
June 13, 2007
0

found this helpful
Okay, I am so glad not to be the only one mystified on the care of my aloe plant! I would think it would be good to take it outside.
Read More Answers
Related Content