May 2, 2008
0

found this helpful
I want to grow and process aloe vera by planting aloe vera plants. For this purpose, kindly guide me accordingly.

Naveed
Answers
May 5, 2008
0

found this helpful
(submitted via email)
Thanks all of your for a quick response. My Basic intention is to grow aloe plant in a professional way and process the gel mechanically.
For this I need a proper guide line for some body so i can start in coming spring season.
regards
Naveed
May 8, 2008
0

found this helpful
I can't tell you anything about processing the gel, but rest assured, there's nothing hard about growing the plants! If you live in the south - anywhere that it will grow (catalogs should tell you its hardiness zone), you can stick it in the ground, water if the ground gets too dry, and watch it grow.
When we moved to a home in southern California, the side yard was a mass of Spanish bayonet (aptly named!). We cleared it all out, and found that under the Spanish bayonet was hiding a solid mass of aloe vera. We transplanted some of it to edge our front sidewalk, and it thrived quite beautifully. We had neighbors coming over all the time to ask for a leaf, and we would reply, "no, take a plant - please!"
By girish dharamshi (Guest Post)
June 13, 2008
0

found this helpful
I am interested to grow aloe vera, in my fram, at yavatmal, India, Pl. send me detailes project report at Email : girishdharamshi AT yahoo.com, or post at: Girish Dharamshi, Dhankunj, Rajendra Nagar, Dhamangaon Road, Yavatmal - 445001, M.S., india
Answer

this Question

...
I have an aloe plant that is really big and has a yellow stripe on the leaves. What type of aloe plant is that?

Thanks,
Harry from Silver Springs, FL
Answers
February 4, 2007
0

found this helpful
Do a google search. Aloe with yellow stripe. It brings up a lot of different types of Aloe.
By (Guest Post)
February 5, 2007
0

found this helpful
Sounds like an agave, not an aloe.
Answer

this Question

...
Aloes are succulent plants belonging to the lily family, indigenous to East and South Africa. They have thick, fibrous roots and numerous, fleshy narrow leaves with toothy edges that protrude out from all sides of the root.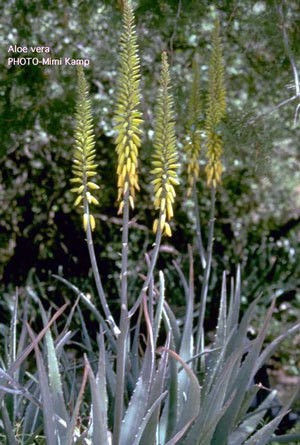 Read More...
I have grown aloe vera for many years now. It likes lots of sunshine and likes to get dry completely before being watered again. Also, it likes light, sandy soil, not heavily fertilized, rich soil.
Read More...