I have a dog that is almost 2 years old and is still not fully house trained. I'm open to any suggestions. Can anyone help?
Tammi from Swanzey, NH
Answers
By Brenda (Guest Post)
February 1, 2008
0

found this helpful
I'm gonna keep an eye on this topic for some hints as I have the same problem with a male Chiquaqua I adopted from a shelter. They think he is about 18 months old. All I get done is clean up floor and furniture. I let him outside very often (when there's no snow out).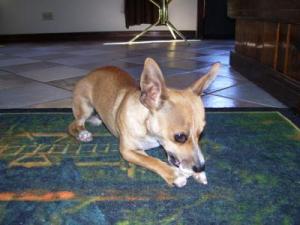 By Linda (Guest Post)
February 1, 2008
0

found this helpful
I will be watching for the answer too. I have two min pins. Create them at night. First thing in the am I let them out, watch that they do their business. I let them back in, feed and water them. Once they are finished eating I actually set a timer for 20 minutes. I pick up the food and let them out again. Once they are back inside all I can do is watch their every move. Every time they wake up or roam to another room, I let them out.
Come 5 p.m. I feed them again and do the same routine as in the am. Set the timer, let them out, pick up the food. For the next few hours I once again monitor them. Come about 10 pm I let them out one last time. When they come in I create them for the night. However I feel like I am the one getting trained. Because they will go inside if I do not catch them.
My mother has a chi that hates winter and snow. But this dog will go to the back door and bark when she wants out. AND she does NOT have accidents. My mother did less than I am doing now when she got her. Never picked up the food, let her out about 4 times a day. And this was her reward :) There has to be an easier way? I love my dogs. But like I said there has to be a way so that I am not constantly watching their every move. So if anyone has any magic tricks. I sure would love to hear them. Good luck with your dogs also. Thanks in advance. Have a great day.
February 1, 2008
0

found this helpful
Start the 'crate training' process with the dog, just like what you do with a puppy. Just google ' crate training dog' and they should give you all the steps you need to begin this. It works with any age dog, any size.
February 1, 2008
0

found this helpful
Crate training is the best!
February 1, 2008
0

found this helpful
Can't argue with shubunny and junebug -- crate training has saved my home and my sanity!
By D (Guest Post)
February 4, 2008
0

found this helpful
Just letting the dog out is NOT enough exercise for your dog; no matter what size your yard is. The same goes for small dogs.
Crating is very helpful BUT only when used in conjunction with a very consistent schedule of feeding and LONG, BRISK walks.
I've taken in many rescue dogs in bad shape and the crate is an interim tool only. After a few weeks, you should be able to leave the door open and let the dog use the crate as a den if it is large enough.
If it takes longer; you need to adjust what you're doing with the walks/feeding schedules until it does work.
How do you know if the walk is long enough? Your heart rate should go up a bit AND the dog will probably have to poop at least once along the way. If he doesn't; keep on walking until he has to go. You'll learn what you need to do quickly if you pay attention.
It will become like clockwork. You'll be able to bet on how far you have to walk before he goes without fail.
Ideally do a long walk (at least 25-45 mins) every morning at the same time. If you need to take your coffee with you; that's what you need to do.
The dog will probably go within 5-10 mins but they (and you) need the exercise.
You can NOT train a dog to "be good" with less exercise. They need it and the more they get, the better their behavior will be.
Sorry if you like to sleep in on certain days. You need to be consistent. Do the same in the evening after the dog eats.
Your dog needs to have some snacks during the day in addition to the main evening meal. Plan them accordingly with your walks.
At night, cut the water a little bit when it gets late. Always keep ample water out during the day and give fresh water frequently.
If you drank a Super Big Gulp before bed; you'd have to pee at least once during the night too. :)
I've found that most dogs respond very, very quickly to a consistent schedule and the long, brisk walks; no matter what the age or background.
Good luck and remember...if it doesn;t work; YOU need to change what you're doing until it does work. With prolonged training problems; it's usually that the dog has trained you instead of you training the dog.
By Rum Bailey (Guest Post)
February 5, 2008
0

found this helpful
Most dogs don't get enough exercise resulting in all sorts of neurotic dog behavior.
Ok, Tammi from Swanzey, NH~
If you are still having a problem potty training your dog after exercising him properly and the vet says there is no medical reason for it- seek professional help from a trainer ~ Good luck!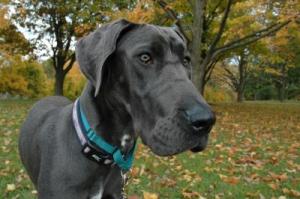 By Shelli (Guest Post)
February 5, 2008
0

found this helpful
I could give you all kinds of advice but really it would all be re-hashed from things I have learned from Dr. Patricia McConnell on Wisconsin Public Radio. She's fantastic! http://www.wpr.org/pets/
February 5, 2008
0

found this helpful
Hi guys - firstly - you cannot punish a dog for a 'boo boo' unless you actually catch them in the act. If you find poos or wees - just let it go and clean them up.
Secondly, if you catch you dog in the act, quickly grab them and drag them outside (even if this leaves a trail of mess behind and then whilst they finish their business outside - praise praise praise - use a high toned tome of voice.
Thirdly, most dogs will need to go within about 20 mins of their last meal. So, time it, take them outside and tell them to 'wee' or 'go'. Wait and be patient and when they go - again praise praise.
Dogs do not understand getting in trouble after the fact. Dogs do understand instant praise!-
And remember - patience!
I keep both my dogs inside (uncrated) while I am at work. I have just got a 10month old rescue dog and it took me about 6 weeks to get him to 'wait' until I got home to do his business. It works!!!!!!!!!!!!!
By jodi (Guest Post)
February 7, 2008
0

found this helpful
We have a new little one at our house and also one we have had for about 4 yrs now. I found the best way is give a small little treat when they go outside an with a lot of telling how big of a girl she is getting to be just like her big sister.
That only took a very few times an that work like a charm.
Read More Answers