April 26, 2007
0

found this helpful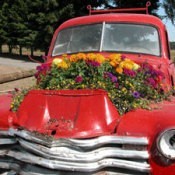 Here's a picture of a flowers planted in an old truck. Do you have any creative planter ideas to share? Post your ideas below.
Answers
October 6, 2004
0

found this helpful
I love the old truck planter !
In magazines I have seen old metal beds set in the yard & flowers planted ! THAT'S cute - I saw an old toilet as a planter too !! too funny !
I saw a combat boot used as a panter ! I LOVED that one !
I grew a cherry tomatoe once in a big Ketsup bottle - I just cut off the top down t the Heinz label -
I have seen vegitable plants grown in reused cans of the same vegitable ! Thats a sweet one !
An old wheel barrow makes a nice planter - you can wheel it wherever you want it !
An old high heel would make a cute planter too I think !
I found an old pipestand once & at a rummage sale I found some plastic test tubes that party drinks came in & painted some flowers on the top of the pipe stand & used the test tubes for plant starts !
If you want to make plant start to give to friends when they get a new apt- start them in nice little glass bottles with a ribbon wrapped around the neck so they can be hung in the window !
By (Guest Post)
February 9, 2005
0

found this helpful
I actually have some plants in my kitchen in oven mitts. Way cute. I work with a company that sells a "no dirt" soil, so I can use anything for a planter because there is no mess. In the bathroom, I have a plant in a towel that is rolled up with a bow tied around it and the plant in the middle.
Love the idea about veggie cans. I'm going to try that right away.
Sher
By jojo (Guest Post)
April 24, 2007
0

found this helpful
I've seen people use old chimney stacks as planter stands...very attractive!
Truck looks great.
April 26, 2007
0

found this helpful
I saw a cute Idea of planters made of can with foreign language signage...You could look for Mexican/Italian...etc.
By Shonda (Guest Post)
April 26, 2007
0

found this helpful
Sher,
What is no-soil dirt, in where can you buy this soil?
Thanks
By Jody (Guest Post)
May 27, 2007
0

found this helpful
Flowers planted in wooden boxes and lots of containers!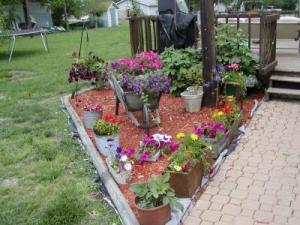 By Jody (Guest Post)
May 27, 2007
0

found this helpful
Tropicanna planted in a wooden box!

Read More Answers