Uses for Celery Leaves
When buying celery I always try to get the bunch with the most leaves. The more the better, they don't add much to the weight if you are buying by the pound, and they ensure that the celery is freshest.
Read More...
March 11, 2005
3

found this helpful
Instead of parsley, use those leafy celery tops to add flavor and color to a salad. Why throw away the celery tops and then purchase parsley?
Wash the leaves, chop them fine, and sprinkle on top of any salad.
Read More...
November 4, 2010
3

found this helpful
I always cut off the leaves from my stalks of celery before putting in the fridge (they cause the celery to wilt quicker), in the interest of "waste not want not"
Read More...
It's easy to dry your own celery flakes to be used in salads, tuna salad or whatever recipe.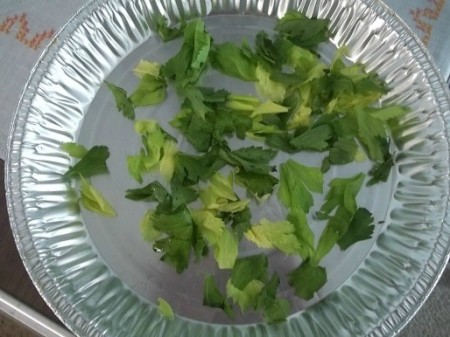 March 28, 2003
1

found this helpful
Don't throw out the top leaves of celery. Wash them, dry them, and pulverize them. Add an equal amount of salt and use for seasoning in soups or salads.
Read More...
Related Content