May 28, 2011
0

found this helpful
First of all congratulations. Fall weddings are my favorite. As an event designer and silk wedding flower designer of 10 years I promote high end style on any budget. Here are my thoughts.
Centerpieces: Don't underestimate the use of pumpkins. Large pumpkins can purchased for a little of $5 each and un-carved they will last several weeks. Carve them with a beautiful vine pattern, with table numbers, or your initials and make them luminaries. Surround the base with inexpensive garland spray painted copper or gold.
Mix up your heights by using curly willow or dried leave bundles placed in burlap wrapped containers. Or use dried wheat bundles to make free standing tall centerpieces.
I also happen to have quite a few dried leave bundles on hand I would be happy to sell. They are extra from a wedding where I made 20 fall leave pomanders for the aisle. I will have to count how many I have on hand, but let me know.
I happen to have 5 or 6 larger corn husk pumpkins I am looking sell. They are brand new, just an incorrect size for what I originally intended to use them for. But they are big enough for centerpieces and you can set fall mums/plants inside, as there is a plastic liner. Let me know if you may be interested.
Chair decorations: It depends on the type of chair, but ribbon hung down from the top can be quite stunning. It's time consuming to do, but beautiful when executed property.
Tulle wraps and bows are the cheapest option as already stated. Thick rope looped into a couple of circles accented with leaves or a flower to hang on the side of the chair can look amazing too.
Cut paper and rope/curling ribbon can be very pretty and cost effective. Cut the paper into triangle banners then stencil or stamp with your initials or fall pictures. You could also cut the paper into a variety of shapes (like leaves, pumpkins, flowers, etc) and string together.
I hope these ideas help. You can always contact me for more ideas. Good Luck and Happy Planning.
May 28, 2011
0

found this helpful
Crystal,
Congratulations on your upcoming wedding. As an event planner and silk flower designer of 10 years, this subject comes up a lot. Keep in mind that presentation is just as important. You can make food look fancier just by the way you serve it.
Other ways to save are to use seasonal fruits and veggies that can be bought in bulk and prepared a multitude of ways. Check local farm markets for what's available.
Select recipes that can be made way in advance and frozen until your event. Various casseroles, pies, cookies, homemade soups, breads etc. This allows you to spread out your costs over time. Just make sure you anticipate 4 ounces per person per item.
Good Luck and Happy Planning.
April 26, 2011
0

found this helpful
As a silk wedding flower designer of 10 years I want to encourage you to buy the highest quality silk floral materials you can. Make sure to purchase a single sample of each type of flower you are considering from on-line retailers. Feel it, check stem quality, look at color depth, check the type of silk material that it is.
Filler flowers don't necessarily need to be as high of quality, as they are typically smaller in size. I would be weary of plastic fillers and flowers.
If you are using dollar store silks then I encourage you to use one type only and use them en mass (everywhere). They will look higher end this way.
Take the time to trim floral edges for strings (this can be common on fabric flowers).
I wish you the best. Best and congratulations. If you have any other questions I am glad to help.
March 11, 2011
0

found this helpful
Best Answer
Lindal is right. I am also a silk wedding flower provider. You also have to consider shipping costs, and most fresh flower arrangements can only be made up within 72 hours of the event.
Refrigeration and changing out water is key. Plus you'll need floral foam versus styrofoam.
It could be real headache. I don't take on fresh clients. I just don't have the needed staff and refrigeration to properly handle these types of request.
Good luck!
February 24, 2011
0

found this helpful
As one professional in the wedding business, I agree with you. I have always preached that its your wedding day and you should do what makes you and your new spouse happy, not anyone else.
I am also a firm believer in setting a realistic budget based on what you can really afford and spending your money on the items that your most important to you, not on how much you think you should spend on a wedding.
It's nice to remind bridal couples to remember the real reason they are getting married. Great post.
January 24, 2011
0

found this helpful
As an professional wedding planner of over 10 years I think a cocktail style reception would be perfect. If you have the space this could be done at home. Rent hyboy tables (they are inexpensive) and use buffet stations to allow guests to nibble, mingle & dance. Create a sweetheart table for the bridal couple.
Opt for heavier hors d'oevres, cream/cheese soups and use sauces. Dress up your food choices by paying close attention to their presentation. If you want to scale back on cake, opt for a cupcake tree, with a small cake on top to be cut by the couple.
If you want to serve alcohol, opt for a couple of signature drinks in the wedding colors. Look for recipes that only call for one alcohol and use mixers for the rest. Again, use the appropriate glasses and dress them up with colored sugar around the rim, or accent with fruit, edible flowers, charms, etc.
Make sure to carry over the wedding couples wedding colors into your decor. Renting lines for the tables is well worth the money. Simple arrangements or candles are large enough for the hyboy cocktail tables. Scattered arrangements on pedestals around the room will bring warmth to the atmosphere. Use inexpensive floor spot lights to create drama. If you will be outside, consider hung paper lanterns in the wedding colors.
Make sure to have a small bouquet for the bride and a boutonniere for the groom. Encourage them to wear their formal attire or a more causal version. Provide boutonnieres and corsages for parents.
For additional seating opt to create some lounge areas, by using your existing furniture, or rent simple benches. Slipcovers are a great way to bring all the colors together.
I hope this information helps. For more ideas just email me. Congratulations and best wishes in your planning.
January 21, 2011
0

found this helpful
Best Answer
As an event designer, I actually field this exact same question from a young lady who took my Wedding Chic on the Cheap class last fall.
Here is what I suggested. Tulle will be very labor intensive to get enough to cover, approximately 4-5 times the width. So, I would have a wooden frame made (it's very simple and really inexpensive) from 1x2 in 8-10 foot sections. This will make them light enough to install and can be easily moved in case of emergency. Make sure to have cross bracing in the corners. Then I suggested using Charmeuse fabric which you can by in bolt. Stretch the fabric across like a canvas. Then for more drama use uplights (floor spot lights) to add a glow.
You can use really any fabric. It will look great stretched or bunched. Don't be afraid to hang pictures, lanterns, flowers, wreaths, or set trees, pedestals or curly willow, etc in front of the fabric.
Another alternative is to create large painted canvas frames. It's a similar wooden structure as described above. The difference is you will use plywood (luan) to cover the frame. Then you can paint it or wallpaper it for a dramatic effect.
Pipe and draping can be rented from most rental companies for very little and offer colored fabric in lots of colors.
Don't be afraid to break up the wall in sections (like creating decorative panels in different colors or textures. This will make the wall a real feature.
A word of caution about the S hooks and PVC pipe as it may not be strong enough for some fabrics. The tulle would be okay or if you were using it to hang accent items, but be careful about the overall weight from other fabrics.
I hope this helps. You can always contact me with more questions. I wish you the best of luck in your planning and congratulations on your wedding.
January 19, 2011
0

found this helpful
As a silk flower wedding designer all of the options provided below would work well. Keep in mind the time of year and the level of formality you would like.
For example if you are looking for something a little more modern and playful you might opt for the bright (celadon green) and a light wine/fuchsia color. But if you want something more romantic then I would suggest pairing the wine with white/ivory and pink or the deep blue.
Or if you want a more fall feel I would pair the wine with deep rust, garnet red, and either a pop of bright green or orange.
So much of the color choice will depend on the overall wedding look you would like to create. Contact me if you would like more help. Congratulation and happy planning!
January 9, 2011
0

found this helpful
As a professional bridal consultant of 10 years specializing in silk wedding flowers, event design & wedding planning, and faux floral decor, I love helping brides create amazing designs for less.
Folding chairs can be tricky, and we are vague about a few of your wedding details, such as your event colors, theme, and the color of the chairs. I assume that since you want the ideas by the middle of October you are having a fall or winter event. Plus, I am assuming that you are using 100 for the ceremony and 100 for reception seating.
Here are a couple of my suggestions:
1.) Try to incorporate the chair color into your wedding color palette. It will look as though you chose those chairs on purpose.
2.) Decorate the ceremony chairs by placing colored bows or pomanders (little round bouquets) on the ends of the aisle to dress up the aisle.
3.) For reception chairs, add a wide band, 3-5 inches, to make sashes. Bows could be added to the head table. (see inexpensive materials list below)
4.) If they are metal chairs you could attach a variety of items with magnets. Tulle, colored paper shapes, etc.
Inexpensive materials:
**Raffia - this is a very inexpensive material that has a natural look and color of straw. It can be made into sashes and bows, while adding a fall, rustic feel.
**Tulle - this material is great because it is very inexpensive, comes in a ton of colors, and widths. You could use wider bulk tulle to make a full cover. Just make sure to bunch or layer the material so the color comes through.
**Ribbon - ribbon is a great way to add color. Pick a bulk ribbon that's really wide. You can make sashes, bows, or wraps. If the chair has a flat top and a spindled back, you could tie thinner ribbon in your wedding colors along the top in little knots and let them hang down. This is a very cool look. (email me for a picture)
**Pearl Strands - these garlands are fun, elegant and relatively inexpensive. They come in a bunch of colors and swagged along the top of the chair will give any chair a pop.
I could go on and on. If you want more help just leave me a message. I am glad to help. Congratulations on your upcoming event.
December 30, 2010
0

found this helpful
Pauline, congratulations on your son's recent wedding. Your budget is more than enough to put together a lovely reception. As a professional bridal consultant, event designer and silk wedding flower designer of almost 10 I field a lot of questions like this right now.
If you want to serve alcoholic drinks, opt for a couple of signature beverages. They use a significant less amount of alcohol, can be made to add color, and can enhance your overall wedding theme.
I agree with T&T Grandma that a sheet cake is the way to go. Have a smaller cake for the bridal couple to cut and serve sheet cake to guests. Make the cake a focal point by dressing it with linens, a garland base, flowers.
I am not a fan of paper or plastic plates, even though I understand their functionality. If you can rent plates or purchase glass plates I encourage it. However, if you chose plastic, they do make some nicer heavier grade that look like cut glass.
I am also a big proponent of linens, if you can afford them. They really transform a room. If not, buy bulk fabric online and cut to fit tables. Then layer the center with colored tulle "pools"
DJ's will most likely run $500+, but you may be able to have a DJ' for less hours at a reduced rate. Otherwise, digital music and iPods can be highly effective for providing music. Just make sure to have calmer background choices for during the meal, and then more lively music for dancing.
Besides that here a couple of other suggestions I have.
1.) Pick a bold color palette. VFW have a tendency to fairly plain spaces. You will get more WOW mileage out of your budget if you stick to bold colors.
2.) Mix up centerpiece heights for a more dramatic look. An inexpensive flower choices is gerbera daisies (fresh or silk)
3.) Use lighting wisely. Colored up-lights located around the room can really add ambiance for less than $20 buck a spot.
4.) Embellish, embellish, embellish. Add paint, ribbon, decorative paper to make ordinary items extraordinary.
5.)Spend time on little details like add a menu sheet to each table by printing it off your home computer and putting in an inexpensive frame. (Everything looks better under glass).
I hope these ideas help. If you would like to talk more I am always available. I do offer full event design for under $250. Congratulations again. Happy planning
December 30, 2010
0

found this helpful
Congratulations on your upcoming July wedding. As a professional bridal consultant of 10 years I love the fact that you have choose to go with traditional BBQ fair. Having pulled pork is a great idea (from JustPlainJo) and is very reasonable. BBQ houses offer inexpensive pricing. If you want to dress up some of these traditional classics try to serve with so grilled pineapple and some fruit Kabobs. Mini short ribs and grilled corn on the cob (still in the husk), would also be fun.
Don't forget about classic smores around the campfire, or grilled banana splits (they are fantastic). Serve risotto with lots of grilled Mediterranean veggies with shrimp skewers for a little fancier food fair. (I have found that you can buy shrimp in bulk from Sam's for a good price or buy over time from Aldi's. They always have great prices on ready to eat shrimp)
Break out the spices to add simple pizazz to any traditional favorites. Or try serving beverages in a decorated outdoor wagon or wheel barrel.
Hope this helps. Good Luck and I wish you continued success in your planning.
November 5, 2010
0

found this helpful
I agree with the concept of the money tree and gift cards, but you could add a virtual twist to it. I once attended a baby shower where they streamed live video to the mother who was on bed rest in another state, or if you are not that techy, simply record the the event and send it to your daughter. Either via mail or digitally. This way she can really feel apart of the event.
Make sure to send her (a party care package) either ahead of time or after. Don't forget to include shots of the room, food, you playing any games, and messages to the bride.
Hope that helps. Good luck and congratulations.
June 29, 2010
0

found this helpful
As a wedding planner and silk floral designer of over 10 years, I agree that a wedding planner can add unnecessary expenses to your wedding budget, if you don't understand how to properly use their services. There are many circumstances where a planner is an invaluable resource (such as having a very short time-line or getting married in an unknown area).
However, keep in mind that many planners offer hourly rates and can be hired to assist at various parts of your event. (i.e. day of, budgets, vendor research, etc.) In your case you may want have a planner help your friend create the overall theme of the event and a budget. This will ensure she will be able to create the "memorable" feeling she is really looking for, on her budget, and minimize the confusion, frustration, and overwhelming feeling of all the options that can conflict with her theme.
Then reference the websites for time lines, checklists, additional ideas, and vendors. I hope this helps. You can always contact me with additional questions. I wish her (and you for helping) all the best.
February 15, 2010
0

found this helpful
As a silk flower wedding designer and wedding planner who has done this type of installation many times here is what I do.
If the ceiling is a tile drop ceiling: You can use grid clamp hooks and large "S" hooks. These can be found on-line or at many home improvement stores. If you are using bolt tulle 45"+ wide make sure to use a large "S" hook.
If the ceiling is not a drop ceiling: Use 2- 3 MM 5lb or more removal hooks. Place them spaced apart 6" approximately parallel to one another. Then use heavy gauge clear fishing twine to create a large loop between the 2 hooks. String tulle through the loop.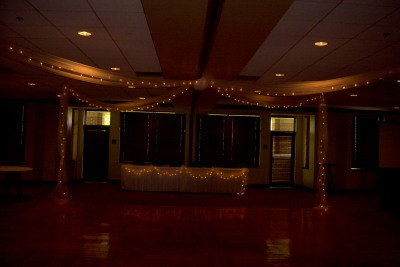 February 12, 2010
0

found this helpful
Try this link. This is were I got mine. Its the chiffon royal blue little bow at the top. www.bloomedtolast.cceasy.com
Type bows in the search box, approximately page 4, 5, or 6. Hope this helps. Good luck
February 12, 2010
0

found this helpful
I am a silk wedding flower designer and wedding planner of 10 years. I am able to buy my flowers at wholesale from a variety of distributors. I would be happy to contact some of them to see if they can walk to the showroom and look for a pure white hydrangea if you would like. If so just contact me.
Congratulations on your wedding and continued success on you planning.
February 1, 2010
0

found this helpful
As a silk wedding flower designer and certified wedding planner for over 10 years, I have a couple of suggestions and tips for you. I would suggest creating a simple hand-tied bouquets. To be more formal, reduce the amount of greenery and choose a single large bloom and accent with baby's breath or stephanotis. For a more casual look; grasses and mixed smaller blooms work well.
Also, you have 2 basic color scheme options when creating bouquets. (1) Make all the bouquets the same in terms of flower colors and mixes, but perhaps make the brides larger in size. (2) Make the brides bouquet different by style, color, and/or flowers, yet all the bouquets should look complimentary. So if for example your bridesmaids are wearing Victorian lilac, than reserve that color for the brides bouquet and use the remaining colors in the bridesmaid bouquets. This way the bouquets will stand out on their gowns and match the overall wedding color scheme.
To stay within your budget here is what I would suggest for flowers and colors. If you have access to a Sam;s Club or Costco they are happy to order bulk flowers for a great price.
Baby's breath & Stephonatis in white as accent flowers.
Roses (Lavendar)
Hydrangea (periwinkle)
Alstroemeria (purple)
Carnations (Purple) - these in mass look really high end.
If you have further questions, let me know. I am glad to help. Congrats on your upcoming wedding. I wish you continued succes in your planning.
December 10, 2009
0

found this helpful
As a silk wedding flower designer and a wedding planner of almost 10 years I would suggest the following; Chocolate Cosmos, mixed with either pink and/or cream roses, peonies, or ranunculus. You could also mix in pink or cream calla lilies, or tulips. Depending on when your wedding is and the level of formality I would be happy to give you more detailed suggestions.