Halloween Contest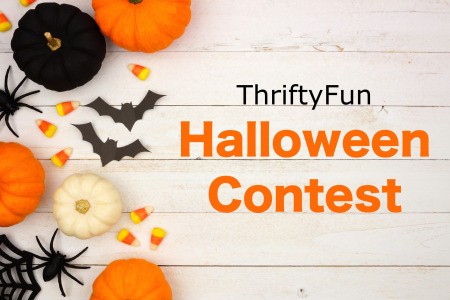 Have you made a Halloween costume, decoration, recipe or do you have a great tip for Halloween? Share with us and you might win our Annual Halloween Contest. All costume, decorations and Halloween tips are welcome! Step by step instructions and photos can increase your chances of winning.
General Contest Rules:
Projects require a photo of the finished costume, decoration, recipe or tip. Step by step instructions and photos are encouraged and could increase your chances of winning.
Non-US Residents: If you live outside the US or Canada, we cannot deliver your prize unless you have a Paypal account.
We will have 2 payment options: Paypal or an Amazon.com gift card (US Residents only), delivered to you by email. At the time of entering your contest entry you will be prompted to review your payment preferences. Please double check that your email is correct for the payment option you choose.
Please submit your original photos. Do not submit copyrighted material, including photos. Links to other sites are not eligible to win contests. This includes images found on Pinterest, Facebook or other social networking sites. If you'd like to share a link to an interesting site or idea, just submit the link with an explanation of why you think it would be valuable to our community.
Winners are chosen by our editorial team but the total number of "Thumbs Up" and Social networking "likes" can increase the chance of winning. Please share your contest submission to increase the amount of likes you get. Submissions can be rated for 7 days after the contest end date (the final day that submissions will be published for this contest).
By submitting a contest entry, you give ThriftyFun permission to publish the submission. The goal of our contests is to gather as much useful information as possible to share with the ThriftyFun community. Submissions may be edited, combined or added to a different contest, if deemed necessary. Submissions may be converted into slideshow videos and shared on Thriftyfun's Youtube page.
Limit your submissions to no more than 5 per day. Not all contest submissions are published but we try to publish as much valuable information as possible. We will send you an email when your submission is published so you can encourage your friends and family to rate or comment on it. We have a sharing feature on every submission that helps you post it on social networking sites like Facebook, Pinterest.
Don't submit the same information more than once, or in more than one category. The more you personalize your entry, the better. Ideas that have been recently published on ThriftyFun are less likely to be posted than original ideas. Multiple submissions in the same week may result in short delays in publishing. ThriftyFun makes final editorial decisions based on the publishing needs of the site.
No spam please, just useful information.